Frimorife S.L.U. – Cold Climate Engineering
Frimorife S.L.U. Is a Valencian company that was established in 1998, after having already been working in the industrial refrigeration sector for over 25 years. Upon starting, they decided to make a small company with absolute dedication and humility and since then has become a leader in the world of industrial refrigeration. The key being our customer satisfaction and always focusing on the design and execution of our latest generation projects using the most innovative techniques.
Who are we?
Frimorife continually grows both in infrastructure and personnel.
Frimorife S.L.U. has achieved a privileged position in the market and has established a working method, allowing us to undertake any project, whatever the size, this making us pioneers in the use of the sector's latest technology.
Frimorife S.L.U.'s growth in both infrastructures and personnel is non-stop. Evidence of this is its up-to-date and innovative facilities with about 40 workers who together make us a solid company where creativity and teamwork lead us to excellence.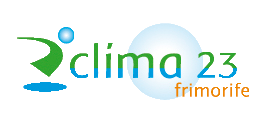 Within Frimorife S.L.U. we have a company called CLIMA23, which was created over 10 years ago that is dedicated to the development and commercialization of air conditioning in our work and family atmosphere, as well as ventilation systems.

Persitech by Frimorife is our own brand that is exclusively dedicated to post-harvest treatments, one of which is the elimination of persimmon astringency (Kaki), developing an application for use in atmospheres which are rich in carbon dioxide, that allows you to control these factors and set them and optimize the working values identified by our R & D department..

Frimorife S.L.U. just launched a new service called "RemoteFrí" which is responsible for reviewing any installation online, that is, from our facilities at Frimorife we can check and control any facility that has taken out this service, 24/7, 365 days a year. This way, you can solve many of the small problems online quickly and thus avoiding major faults or even avoid your clients making unnecessary call-outs. We check up on tripped alarms, control temperatures and any other incidents that may occur at the facility.cility.
---
Our philosophy is based on satisfying our customers, giving the best of our products and services with the most demanding quality controls, and to do so we offer the sector's latest innovations and technology in the industrial, commercial, post-harvest, air conditioning and ventilation fields to give the best. We offer the best maintenance service, characterized by its professionalism and quick response.
You can achieve whatever you want if your enthusiasm has no limits.
---
Salvador Ribes Bèrnia
Manager at Frimorife SLU